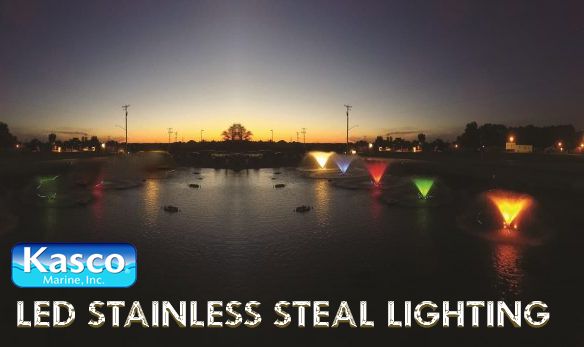 Stainless Steel Lighting
The ultimate lighting solution for your Kasco J and VFX Series Fountains and AF Series Surface Aerators. This 3 or 6 fixture kit features durable stainless steel housings and are available for 1/2HP-7.5HP fountains and aerators. Each 19 watt, low-voltage fixture delivers a classic white color and is rated at nearly 1,700 lumens. Each kit comes standard with blue, amber, red and green lenses and rubber lens cap. These lights run on standard 60Hz power and are UL listed and CSA certified. These durable and flexible lights will add nighttime drama and beauty to any water feature.
Additionally, each fixture includes it's own splitter cap allowing customers to leave main power cord in water along with unit power cord when units are pulled for service or winter storage.
Low Voltage Stainless Steel Lights for use with the 2400VFX, 3400VFX, 3400HVFX, 3400JF, 3400HJF, 4400VFX, 4400HVFX, 8400VFX, 2.3VFX, 8400JF, 2.3JF, 3.1JF, 3.3JF, 5.1VFX, 5.3VFX, 5.1JF, 5.3JF, and 7.3JF Aerating Fountain Models.
---